"LET THERE BE PEACE"
A Musical Odyssey for Ukraine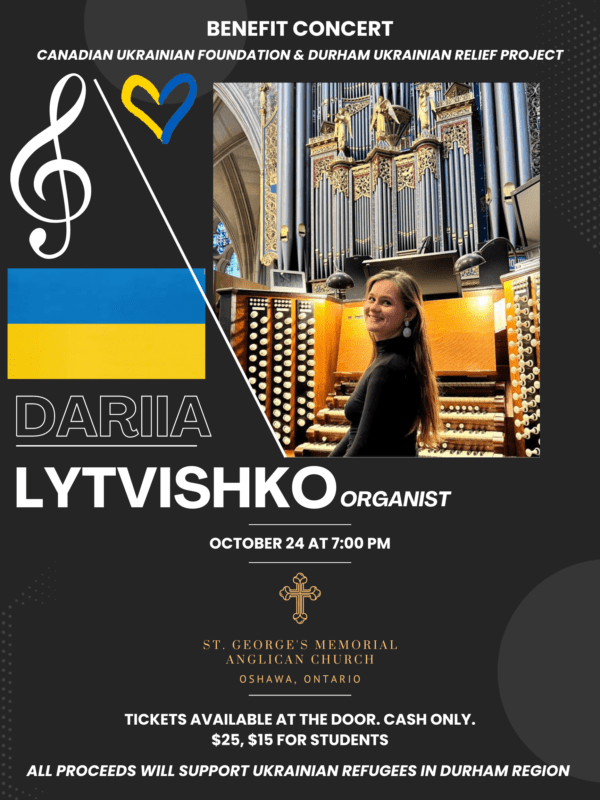 Canada, September 5, 2023 – Dariia Lytvishko, a 27-year-old virtuoso organist hailing from Lutsk, Ukraine, is set to embark on a remarkable musical journey throughout Southern Ontario. This tour, comprising nine benefit concerts, is a heartfelt gesture of solidarity and support for Ukraine during challenging times.
Dariia's passion for making music and connecting with people through her concerts has been the driving force behind her career. Having pursued her studies in church music in Germany, she has become a sought-after organist, performing over 40 concerts annually in various countries. Her impressive résumé includes prestigious venues such as Westminster Abbey in London, Oratoire du Louvre in Paris, and even the historic Pantheon in Rome, and her music has resonated with audiences in the United Kingdom, Belgium, Germany, France, Italy, Monaco, Finland, Ukraine, and beyond. However, it's the events of February 2022 that have truly defined her journey. As the conflict in Ukraine escalated, Dariia made a commitment to utilize her talent for a greater purpose. She has since played an astonishing 31 benefit concerts, with the goal of reaching 40 by the end of this year — all of this in support of humanitarian aid, not only in her home country but also in Canada in support of Ukrainian refugees and their various host groups here.
Currently, Dariia holds the prestigious title of Artist in Residence at De Principal, an organ organization in Ghent, Belgium, and also serves as an organist and choir director in Herford, Germany. Her dedication to music and her unwavering support for Ukraine have made her a symbol of hope and resilience. She expresses her excitement for this upcoming benefit concert tour, anticipating not only the opportunity to perform on exceptional instruments and in remarkable venues but also the chance to connect with the people she meets along the way. She extends her heartfelt gratitude for the support and organization of this tour, emphasizing the importance of coming together through music to make a difference.
As Dariia Lytvishko prepares to take the stage in Canada, her music becomes a bridge that unites cultures and brings hope to a nation in need. This tour is not only a celebration of her remarkable talent but also a testament to the power of music to inspire change and uplift spirits in challenging times. Canada eagerly awaits this musical journey, and the world watches in admiration as Dariia Lytvishko continues to make a profound impact through her music.